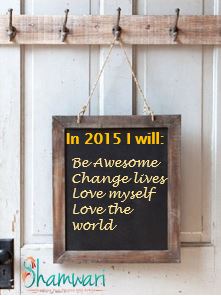 It's the end of the year so I bet many of you are putting the finishing touches to your New Year's resolution lists – and here's my coachy two cents on the subject to help you make great resolutions you can stick to!
You don't need to wait until the beginning of a new year to start changing your life (and the world).
The important thing is to START and to KEEP GOING with it. I tend to use my birthday as my arbitrary clean-slate date – it feels less cluttered to me than New Year. That said, I also check in with myself and my business at the beginning of each new month and season, because it's important to me that I maintain trajectory – the more frequently I check in, the easier it is to make little adjustments to stay on track, instead of burying myself with a massive (and intimidating) list of resolutions once a year… An extremely useful principle to apply here is that of the Slight Edge – consistently applying small disciplines for a compounding effect. For more information, check out Jeff Olson's book: The Slight Edge: Turning Simple Disciplines into Massive Success and Happiness
– I suggest reading it at least twice and applying the principles immediately 🙂
Make REAL resolutions, not a wish list.
I'm seeing a lot of wishy-washy "resolutions" on Facebook right now. Remember, vague goals lead to vague results. Your brain and the Universe are crazy literal, so the clearer and more specific you can be when setting goals or making resolutions, the better! Also, be honest with yourself – are you really committed to your goal or resolution, or is it just something you'd like to have magically happen? Here are some tips to help you make that list real and actionable:
Watch your language. Are you saying "I'd like to" instead of "I will", or "I should" instead of "I intend to"? Are you qualifying your resolutions – "Pay off my credit card – if I can"?  How specific are you being? "By June I intend to land an awesome new opportunity using my project management skills to help drive important environmental initiatives with a well-regarded global organization" is so much more powerful than "I'd like get a new job sometime this year, if I can", am I right? Words have power, my friend. Use them wisely; work WITH your brain to reframe and clarify your thinking. By the way, here's a great book that can help you do just that: NLP: The Essential Guide to Neuro-Linguistic Programming
Consider a framework like SMART. Really. Take a look at each of your resolutions and ask yourself the following questions: Are they Specific? How will I Measure success? What Action steps are needed to achieve the goal? What are my Reasons for setting this goal? What is the Timeframe to accomplish this goal? In fact, I'd ask the REASONS question first. Really understanding WHY you want to accomplish <insert New Year's Resolution here> can help you be clear about how much of a priority it is, and whether the goal you first listed will actually give you what it is you think it will give you (and if not, what other resolution may serve you better). Here's a good post on the subject of articulating the WHY to your WHAT (p.s. doing this will also help you think through the HOW) that reinforces why we coaches dig into values and belief systems with our clients. When the WHY and the WHAT are fully aligned, watch out – because the WOW isn't far behind!
Are you helping yourself or getting in your own way? Consider whether your goals or resolutions support each other. Are some of your goals complimentary (i.e. finding a less expensive place to live so you can pay off debt) or competitive (i.e. taking flying lessons vs paying off the credit card)? How can you make them work better together?
Commit and follow through.
Tony Robbins says "there is no abiding success without commitment" – and what is commitment other than a conscious, recurring decision in support of a goal, with action to back it up? Last, but not least: be realistic – it's more powerful to choose one or two impactful resolutions and follow through on them throughout the year than to make a wish list of ten resolutions that peter out by February.
HAPPY NEW YEAR, everybody! 2015 is going to be a big one and I'm looking forward to it. If you'd like my input and encouragement, feel free to share your resolutions in the comments below – I'd love to see what you'll be up to in the new year!
Please also join my mailing list so that I can keep you in the loop on some of the exciting new developments as they happen – I promise not to spam you!