Privacy Policy, Code of Ethics and Disclaimer
Privacy Policy:
I will never share or sell your personal information to anyone, for any reason, ever.
Disclaimer:
I am not a medical practitioner or a licensed therapist. I do not diagnose, treat, cure, or prevent any disease, mental or physical. I provide support for personal growth, healing and transformation through education and coaching. Nothing I discuss or practice is meant to take the place of quality medical or veterinary care, including psychotherapy.
Code of Ethics: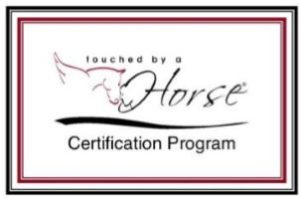 As an Equine Gestalt Coaching Method® (EGCM®) Certified Coach, I abide by the Touched by a Horse®/EGCM® Association code of ethics as outlined below.

I will maintain accountability to the ethics and standards of the Touched by a Horses® Equine Gestalt Coaching Method® (TBAH®/EGCM®) and remain a member in good standing of the EGCM® Association.
I will maintain high standards of professional competence and integrity.
I will identify my level of competence to the best of my ability and will not misrepresent my qualifications, expertise or experience. I will refer clients for other services beyond my own competence as determined by my education, training and experience.
I will enhance the public understanding and promotion of the Equine Gestalt Coaching Method® as a powerful, productive learning and coaching process.
I will treat my EGCM® colleagues with respect and fairness, refraining from gossip and collusive behavior in order to develop professional relationships.
I will maintain professional standards with clients, being on time and keeping appointments, as well as consulting and collaborating with other TBAH®/EGCM® practitioners where, and if, beneficial to the client.
I will dedicate appropriate time to educate participants in how to stay safe in the process of working with horses.
I will engage the horses as my working partners and autonomous co-facilitators in the process, treating them with honor and respect. This includes never speaking of, or treating, them as a tool or game piece, and never manipulating them in activities.
I will work toward the care, feeding, vet work and general health and comfort of all horses who align with me in this work. I will speak my truth as regards to any concerns about them before, during, and after the work to maintain them in the highest conscious level possible.
I will not coach with clients while either they, or myself, are under the influence of any substance, legal or illegal; or engage in sexual relations with a client or client's partner during the course of, or for a minimum of three months after the conclusion of the coaching process.
I will not teach other professionals or students the Equine Gestalt Coaching Method® until I am deemed competent and certified as an EGCM® Instructor of the Method. I must demonstrate that I have been an EGCM® professional for over 5 years, and attain Train-The-Trainer Certification before I can become an EGCM® Instructor.
I will remain abreast of developments in my field, specifically advancements in the Equine Gestalt Coaching Method® and Association, by taking a minimum of 15 hours of CEUs (Continuing Education Units) with TBAH® at either a Summit or CORE "CEU day" or CEU teleconference, beginning the second year after certification.
I will honor my responsibility to maintain confidentiality about my clients, not sharing information about them to anyone, except where their permission is expressly given.
I will take reasonable efforts to store, transfer and dispose of client records, that protect client confidentiality. This includes gaining written permission from each client before releasing their names, photos, or contact information, for reference or marketing purposes.
If you feel I, or any of my EGCM® colleagues, have violated this code of ethics, and do not feel comfortable bringing your concerns to my attention, please feel free to contact Melisa Pearce at Touched by a Horse® by email to office@touchedbyahorse.com or call 1 866 652 8704 (in the US). The TBAH® Ethics Review Board will research and review any complaint and if they deem the TBAH®/EGCM® practitioner has engaged in unethical behavior or unprofessional contact, that person will be subject to disciplinary action up to, and including, the loss of certification and endorsement by TBAH®.
My Personal Responsibility as a Coach:
I agree to take care of my own health and well-being in order to be an effective coach for my clients.
I agree to always strive for greater self-knowledge and spiritual growth to ensure that I can offer my clients sound information, guidance and support.
I will always stay within the laws and scope of practice for where I conduct coaching services.
My Clients' Rights:
Your choices will be respected.
You will be provided with compassion and respect.
You will never receive criticism or judgment of other healing modalities or philosophies.
Client Care:
If any client presents with a medical condition or circumstances outside of my field of expertise, I will refer this client to an appropriately qualified and licensed health care provider for treatment of their condition, while continuing to support their transformation through coaching.
I shall conduct each client session in a professional manner.
I agree to provide a safe and supportive environment for clients receiving coaching, and to uphold honesty and integrity in my practice and client relationships.
I shall be sensitive to the boundary and needs of each individual client.
Confidentiality (I can't stress this enough):
I agree that any information that is discussed with a client within the context of a session is confidential between that client and me (their coach).
This information cannot be released nor discussed with a third party, unless given explicit and direct permission by my client.