This was originally published in the September 2015 edition of "Santa Fe Monthly" Magazine.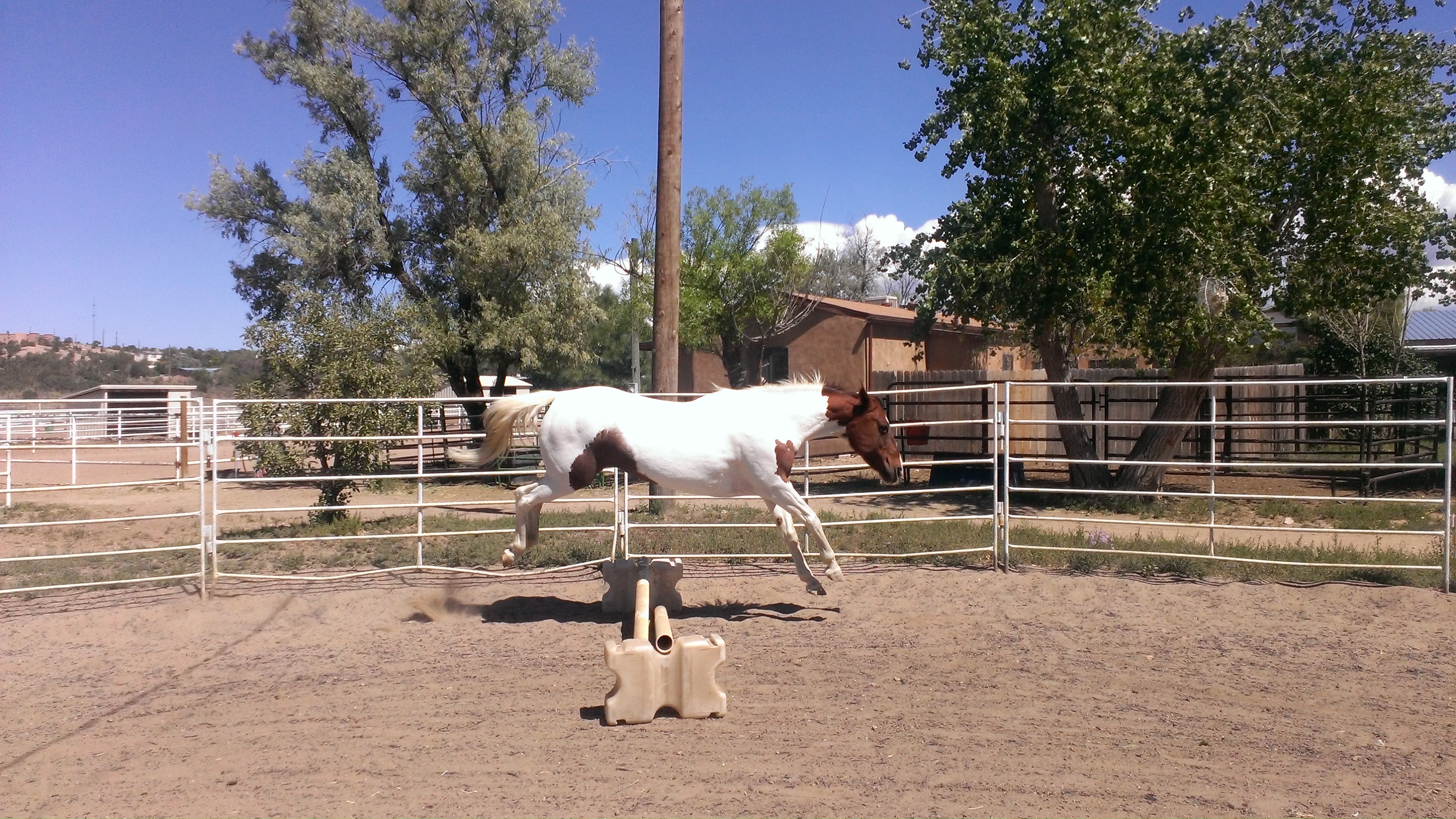 She's a little brown and white Paint mare, with soft eyes and a not-so-secret superpower.
I first met Gift in 2009, while volunteering at a horse rescue in Washington State. She had been through an incredible journey of trauma and abuse, thankfully ending when she arrived at the rescue, pregnant and with a weanling by her side. She was completely shut down, dangerously defensive and so chronically afraid that she was unable to easily go into labor when it was time for her baby to come. We were told to euthanize her, that she could never be rehabilitated. Thankfully we didn't listen. To paraphrase a quote from the movie Seabiscuit, "…you don't throw a whole life away just 'cause she's banged up a little."

Even in the depths of her fear and distrust however, I noticed Gift was drawn to people in need of healing. It was as if she couldn't help herself – she would briefly let her guard down and reach out to the Vietnam veteran who was always so stoic but whose wounds she could clearly see; the alcoholic volunteer who desperately needed but didn't know how to ask for help; the overcommitted and overwhelmed animal rescuer. And then there was me: the burned out corporate employee and over-functioning activist whose health was in a precipitous decline. She would reach out… but couldn't quite bring herself to allow the connection. Like many of my coaching clients, she wanted to make a difference in the world, but her "unfinished business" was getting in the way of her being able to follow through. To many she was a classic case of unrealized potential, irreparably ruined before she had a chance to live into her life's purpose. To me she was a caring and sensitive soul who had endured a lot, and who deserved a chance to re-write her story. I fostered her and one of her colts, and eventually – inevitably – Gift and I became permanent herd mates while a friend adopted her colt, Cody.

Gift and I worked on our recoveries in parallel – she learning to trust herself and others, while I journeyed back to wellness and balance. During my corporate career, I was lucky enough to work for companies that encouraged excellence, and to be surrounded by passionate, dedicated people who had a hunger to change the world in some way. We worked hard and gave back a lot. However, I noticed – and ultimately succumbed to – some unfortunate side effects: overwhelm, burnout, change fatigue, compassion fatigue, and compromised health. In fact, it was while sidelined on a medical leave with a non-functioning adrenal system that I decided I wanted to help others sustain their passions and ability to contribute by avoiding the very trap into which I'd fallen. After returning to work I realized just how pressing the need was and left the corporate world to establish my coaching business.

As a passionate animal lover, there was a missing piece for me though: how could I incorporate helping people and working with animals in a non-exploitative way? When a friend suggested I study the Equine Gestalt Coaching Method®, I knew I'd found a good fit: a co-active coaching model utilizing two coaches (one human and one equine) who partner with a client to challenge limiting beliefs and positively shift behavioral patterns. There is an abundance of research that supports the healing gifts of animals who choose to serve in this fashion, and horses are uniquely talented in this arena, thanks to a finely honed sensitivity to their environment and others. How they respond to our energy holds us accountable for being authentic and in the moment. We may be able to lie to ourselves, but it's practically impossible to lie to a horse!

With incredible fortitude and perseverance, Gift overcame her traumatic history, finding her way back to trust in – and care for – people, tapping into her inherent healing nature and bringing a special empathy to her coaching work as a result. She is a powerful coach, holding space in a way that allows people to be vulnerable while gently leading them back to their inner strength and power. I am deeply humbled by her sensitivity, grace and humor as she works to facilitate our clients' positive transformations.  To paraphrase another quote from the movie Seabiscuit: "You know, everybody thinks we found this broken-down horse and fixed her, but we didn't. She fixed us. Every one of us. And I guess in a way we kinda fixed each other too." And that's the super power of a little horse with a big heart.

How has an animal helped you heal? Share your stories in the comments!